RESIDENTIAL LOCKSMITH SERVICES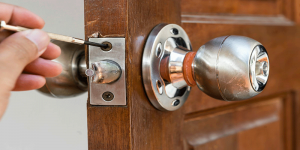 There is no question that your home is the most important place, and rightfully so you would like to feel secure it in. Any locksmith service you may need pertaining to your residential location, feel free to give us a call and we will be more than happy to help you out. Our residential locksmith technicians come right over to your home for your convenience and are able to do everything from opening a locked door, changing old locks, re-keying, lock installation, peep hole installation, patio locks, fresh installation and many more. We also customize our services and are able to order special parts and locks, just let us know ahead so we can place an order just for you. Everyday our dispatch team gets different calls regarding residential services and they truly vary from home to home, this is why we make sure our technicians are fully trained and experienced so they can handle any job. Our most common residential needs consists of a list of a couple services:
Lockout
A house lockout tops the list that our residential locksmith service techs attend to. Many times these lockouts happen at the most inconvenient times and leave us standing outside our premises with nothing to do. A few things usually run through the head of a fellow lockout "victim", first it "how can I get in my house from an alternate way?" All of the sudden you catch yourself thinking of ways to break-in to your own home, hoping none of your neighbours will catch you jumping your own fence. While some of these techniques are completely understandable, why not keep your sanity and dignity and give the pros a call. Give residential Burlington Lock Service a call and within a few minutes a tech will be at your door. You may be locked out due to a couple of reasons, either you lost your key, you locked your keys inside, the key got stuck and broke inside the key way or the key keeps on turning without actually opening. The locksmith tech will assess the problem and come up with the most cost effective solution for you. If you simply locked your keys inside your home, a lock pick will be the most effective way to open your door if possible. On the other hand if you lost your keys, you will most likely want to replace your lock as you never know who picked that key up, which brings us to the second most common service required, lock changes.
Lock changes
There are an ample amount of reasons of why you should/want to get your locks changed. We recommend getting your locks changed for a couple of reasons.
Moving in to a new home – when you just moved in to a new place, you want to make sure you and your family are the only ones having access to your new location. Leaving the same lock on your home means you are leaving it vulnerable for any past tenants whom you do not know.
Regular maintenance – changing your locks every so often is a good idea so you never have to worry about getting locked out due to a faulty or malfunctioning lock. If you have a good quality lock on, it should be working just fine for a minimum of ten years. If you are residing in the same place for a while changing your locks every ten to fifteen years should be sufficient. Calling a professional locksmith technician to switch an old lock could result in a simple fix, if the lock is looking good, then there should not be a reason to switch it, but he might give it a couple tweaks to make sure it keeps running smoothly in the next years.
Feeling like something is off – some of our clients will express their past experience where they used to live with a roommate or an ex and feel they might still have access to their home. In such situations, its best to call a locksmith and get those locks changed, specifically for peace of mind. When you call our locksmith company, you will be able to tell our tech exactly what you are looking for in a lock. You can tell him which style and security level you would like and he can install it for you right then and there.
Lock installation
There is no secret that installing a lock can be difficult and frustrating when not knowing how to do it. Even locksmith apprentices that are given clear instructions and shown exactly what to do, when first starting out their job can run into difficulties, requiring assistance from their teachers. It comes as no surprise that clients who do not have a background in locksmithing will like to call a professional to install their locks for them. There are two options pertaining to installations. Some clients like to do their own research on locks and take their time with choosing the right one for their door, which is completely understandable and we respect the wholly. In this case, a locksmith can come to your home; install the lock you chose in the location you would like and end of story. On the other hand, some clients prefer the professional locksmith to recommend them the lock they should install. The same way every pot has its best fitting lid, every door has its best fitting lock. Some doors may be too thin, too thick or too heavy to carry some locks on them and locksmiths will advise you of that. The last thing you would want is having found the perfect lock, but it is not suitable with your door. This is what a locksmith can guarantee won't happen to you. Our locksmith technicians carry many different locks all ranging in styles, sizes and security levels. Once you decide together on the best-suited lock for you he can go ahead and install it, and since these are our company locks we provide full service warranty, 24/7. If there is anything that seems not right with the lock or you have any questions about its features just give us a call, the dispatcher will connect you to your technician who will be more than happy to go over things with you.